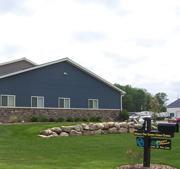 Green Planet Lawn & Tree Care is located in Burton, Michigan and is a locally owned and operated company with old fashioned ideals and unbeatable customer service. We offer complete property maintenance from common weed control and fertilization to insect and disease control, as well as tree and shrub care, and a range of additional services to make your property the best it can be. Leave your property maintenance to the professionals at Green Planet!
Green Planet Lawn & Tree Care is a full service company; working with everyone from private residential customers to apartment complexes, churches, condos, small businesses, large businesses, realtors, and school districts.
No job is too big or too small; so for the healthiest, greenest turf and landscape call Green Planet today. We have over 40 years experience in the lawn care industry, and will treat your property as if its our own.
For more information on Green Planet's lawn maintenance and tree care services:
Call 810-742-5555, or contact Green Planet Lawn & Tree Care online.