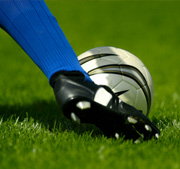 Growing quality turf grass is always a challenge, especially when you have a team of athletes that give it a workout on a regular basis. Top dressing these areas will help improve root zone growing conditions for your athletic field.
Reduced soil compaction
Improved oxygen, water and nutrient flow to roots
Elimination of puddling
A softer, safer and more stable playing surface
At Green Planet we offer a cost effective program that provides a safe playing surface which will stand up to a great number of events while still playing on natural grass.
Green Planet specializes in all aspects of athletic turf management. Our knowledge and experience makes us the most qualified company to care for your fields. We pride ourselves on our ability to maintain athletic fields, keeping them in the best and safest playing condition. No matter what your budget, we will work with you to customize a program to get the maximum benefit for your fields while staying within your individual budget.
For more information on Green Planet's lawn maintenance and tree care services:
Call 810-742-5555, or contact Green Planet Lawn & Tree Care online.
Serving Genesee County, Michigan: Grand Blanc, Flint, Davison, Burton, Swartz Creek, Fenton, Frankenmuth, & Flushing, MI.